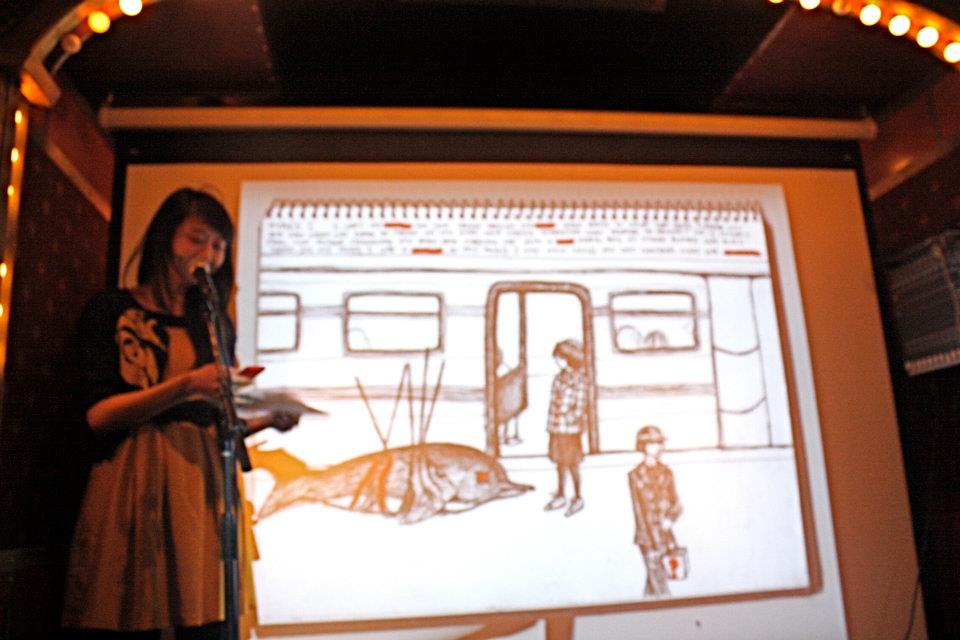 Sally Wen Mao is an 826 Valencia Young Author's Scholar and a Kundiman fellow. Her work can be found published or forthcoming in Cream City Review, Gulf Coast, Indiana Review, Passages North, and West Branch, among others. Born in Wuhan, China, she has lived in Boston, the Bay Area, Pittsburgh, Amsterdam, and most recently Ithaca, where she is an MFA candidate at Cornell University. Her series "Consider the Stakes" is published in our latest issue of Paperbag.
Cathy Linh Che: Your poem, "Consider the Stakes" was written as a series—and I've always been interested in series poems myself. What's your take on series poems? How do they work and what about them appeals to you? What inspired you to write this particular series? 
Sally Wen Mao: Writing a series is daunting. In workshops, series poems tend to get pitted against each other in a Darwinian battle of survival—which one is the "weakest link"? Which one seems to deviate from the whole? To me, series are not about uniformity—they are an excellent way of capitalizing on an obsession. Each poem needs to retain its own distinctiveness, reveal a new angle, and yet cohere with the rest of the series.
This series, for me, is a foray into a difficult emotional landscape, a space of dissemination. It's very raw and barely edited. I keep returning to the word "stake", its power and multitudes—not only what's at stake, the stakes in a dire situation, but as an object that could impale and hurt, as an object of sacrifice.
Paperbag: The original series included an illustration with each poem. I'm wondering, what came first, the images or the writing? How do you think the images interacted with the poems?
Sally: The drawings came first, actually. In 2010, I was waiting for the F train in Manhattan on Thanksgiving. I started drawing the platform, the subway, some of the passing strangers, but the sketch seemed too placid. I was very devastated at the time, and as I drew, nothing in the picture could quite evoke this alien sensation wracking me. Everything normal needed to depart; something strange needed to arrive. Then I drew a dolphin on the platform, with harpoons sliding out of its flesh. I drew a few more of these—dolphins with stakes through their bodies, in domestic settings, in meadows, in hotel rooms. They appeared like little valentines, maimed and vulnerable. This is where the words came in. The words were an attempt to convey these images of terror and susceptibility.
PB: Are there any particular artists/writers you find especially compelling these days?
Sally: So many! Dawn Lundy Martin's Discipline is gorgeous. Terrance Hayes' Lighthead still thrills me no matter how many times I reread it. I love this poem by Cathy Park Hong, this poem by Brenda Shaughnessy, and this poem by Jennifer Chang. I've also been reading Create Dangerously, a new collection of essays by Edwidge Danticat, and it's seriously a delight.
As for artists, in San Francisco I discovered an eerie and luscious fairy tale Of Lamb (McSweeney's), a collaborative work between poet Matthea Harvey and artist Amy Jean Porter. It's a beautifully illustrated tale of attachment, obsession, anthropomorphism, bestiality, depression, blueberry patches. This all sounds kind of disturbing, but trust, it's lovely and strange.
Also, I recently visited the Brooklyn Museum exhibition of artist Sanford Biggers. His installation pieces are complex and compelling (one of the centerpieces is a piano cracked open by a tree, its keys playing a song, "Strange Fruit"). They have a way of haunting the viewer with their sublime beauty and uncanny evocation of brutal racial narratives in the South.
PB: Are you working on any projects? Or, obsessed with any particular ideas in general?
I'm working on my first manuscript, On the Sorrow of Apiary Thieves. Recently, my poetic obsessions have included cyborgs and androids (Janelle Monae's last LP and EP and Bhanu Kapil's Space: An Incubation for Monsters may have sparked this). I'm obsessed with this elemental lonesomeness, of living not even on the margins, but isolated and decontextualized altogether. Science fiction narratives echo long-held histories of border-crossing, displacement, and transnational identity. Somehow, that's how my poems are becoming more political.
I'm always interested in the space between vulnerable and ferocious, speakers or animals that appear weak but do everything to prove their strength and courage. In a sense, this space feeds into the condition of being marginalized—pariah, abnormal, perpetual outsider. I want to empower that space. As the child of immigrants, constantly moving and relocating, I always return to "freak studies."