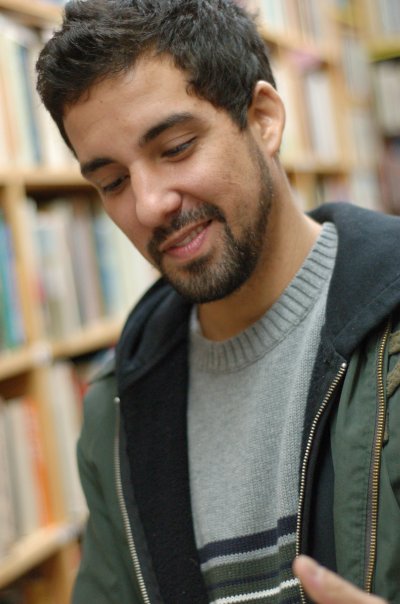 A nominee for the Pushcart and Best of the Web, Paul Hlava has poems in Gulf Coast, Rattle, Agriculture Reader, and Juked, among others.  He has had performances at the Dixon Place theater and Bowery Poetry Club.  He is a poet and grammar teacher living in Brooklyn.
Paul's poems appeared in Paperbag 4, and he produced the videos for the launch reading on March 30th, 2012.
Paperbag (PB): Have you participated in any cross-medium artistic/writerly collaboration? If so, what were the results? How was the experience? If not, is there anything in particular holding you back?
Paul Hlava (PH): I'm really fascinated by the recent upsurge in cross-medium artistic collaboration that's been going on and am thrilled by what we can do in the future. A couple weeks ago I went and saw The Supernatural Wife, a dance troop performing an Anne Carson translation. It was great, mixing ancient Greece with the present day, tragedy and humor, dance, song and poetry. Something's happened in our culture just in the past few years, I think, which has led to a kind of democracy in artistic thought. I'm talking about the cool work done by Teleportal Readings, Puppets & Poets, and the comics of Bianca Stone, among others. I'm constantly wondering how I can make my poetry more three-dimensional or interactive.
Recently a friend and fellow writer Phillip Grayson and I started shooting short videos. Although their purpose is still unclear to us, I'm excited to see how the smaller pieces will fit together to form a larger picture. A few years ago I performed as part of a poetry/video collective Opus Vulgate. In that collective three other poets and I wrote a kind of disconnected poetic conversation trying to reconcile Revelations with the very different and sometimes equally as bizarre future we found ourselves living in. Scenes interpreting our poems were projected onto the wall behind us as we spoke. Being able to work with friends and then see that work take on a life of its own was one of the most satisfying things I've ever done.
(PB): What are your thoughts on digital, internet-based journals and publications? Is the internet the harbinger of doom, the doorway to the future, just another tool for communication, or something else entirely?
(PH): Like most tools we create, I don't think that the internet's going to have an intrinsically positive or negative effect on writing, just a new one. There are few other inventions that have affected writing and thought so profoundly, maybe just the printing press and the invention of various forms of paper. What's cool is that we get to be around to witness the change this time. Things like online journals, the Kindle and so on are already changing how we visually perceive writing and I think that the physical book/journal's response has taken an equally interesting shape. Publishers that are evolving with the industry are producing some of the most interesting books out there like Anne Carson's Nox, Carlos Oquendo de Amat's 5 Metros de Poema, or magazines like Tuesday; An Art Project. Personally, I'm not really interesting in sending my work to places that don't work online.
(PB): Paperbag works to establishing a more substantive footprint for individual writers and artists by asking for more work rather than their best singular poem or piece. Do you feel that the magazine accomplished this for you?
(PH): Paperbag definitely asked me for more work, rejecting much of what I'd sent them. I appreciated the honesty of the editors and the chance to go back and review what I had that may or may not have been publishable.
(PB): Your work in our latest issue is at turns political and personal, tagged to both the intimacy of a one-on-one romantic relationship and the larger idea of social responsibility. What foregrounded this turn in your work?
(PH): Wow. This is a great question, thanks. The power of language to evoke change on a social level has always captivated me for seeming at once necessary and impossible. On one hand, when faced with things like the growing disparity between the classes, hunger, poverty, our increasing loss of privacy and dependence on diminishing sources of fuel, working to affect change is the noblest thing someone can do. On the other hand, who am I to reroute a culture? Just some middle class kid from the suburbs barely eking out a living wage. I don't even have enough self-control to stay awake on the train. This weekend I watched two movies in bed. It's these inconsistencies of thought that interest me. If we can reconcile them, we can do something really good. How is what the President says on TV about the Middle East reflected in my living room? Can a shift in our personal notions about our neighbors move nations? To help myself answer these questions, I invented a character, Gloria, and wrote a hundred poems about her, a few of which you are publishing. I still don't think I've successfully answered the questions. Now I'm trying to learn how to write about social issues more directly.
(PB): What is your relationship to your readers? Do you believe in conveying a particular message, or do you regard reader response as relatively open?
(PH): I don't think about the reader too much. It would be too claustrophobic. I would, though, like the reader to be entertained. I think writers often forget that writing is also a form of entertainment, and that it's enjoyable. Occasionally I'll hear one of my friend's voices in my head tsking and telling me the joke's gone too far, at which point I'll try to pull in the reins on my natural absurdity.
(PB): As a young writer, what are your hopes for the future of poetry?
(PH):It's hard to generalize about the future of poetry. I would like it to continue and grow as it has been for ages. For the future of my poetry, I guess I would like to try to branch out more. Mix poetry with other mediums in fun ways. Maybe like poetic children's toys. Or poetic cakes.