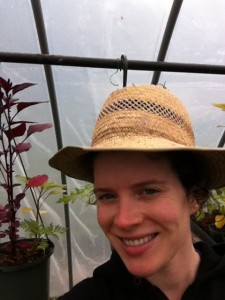 Q: Your poems are very rooted in place, location, and in nature as a whole. What is it about nature that lends itself so readily to poetry? How does language capture this world in a ways that other art forms can't compare, specifically as you use it?
IC: One thing I love about language is that it's physically weightless. It lives in the mind and body and spirit, and can be carried anywhere. When I'm out somewhere, language very often reveals itself to be a vital part of my experience of the place, inseparable from the place itself. Making a poem out of that language feels like the best way to find my own role or position in a given place. Wild ecosystems are great for this because my "human" status is totally open for interpretation.
I remember reading a set of instructions once for "how to be a Druid" in a Deep Ecology text. It said something like, "pack some food and water and a notebook in your backpack, and go out into the forest for the whole day." It really helps me to think that when I do exactly this, I am participating in a tradition that humans have valued since our earliest existence. Even if the "forest" is New York City!
Q: Have you participated in any cross-medium artistic/writerly collaborations of late? How do you feel about the confluence between poetry and other art forms?
IC: My friend Loie Hollowell, who is a painter, is working on a book with me. Her narrative paintings are populated with cacti, strange flowers, and dream-like human characters. Her work suggests a reality that I would like to explore with language. It's a free, spacious, erotic reality where ecosystems have a mythological significance that we make up ourselves. I'm very excited to co-create this world in our book.
Recently Loie and I are reading Diné Bahane': The Navajo Creation Story (trans. by Paul G. Zolbrod in 1984). It's an epic and elaborate Pre-Colombian poem-story where wise plants and animals talk. People do things like belch and masturbate and climb into and out of the sky.
The dialogue we have about the vocabulary of images in this ancient poem—verbally and visually—is so rich and generative. I always learn more about my own practice as a poet from it. That's what is valuable to me about collaboration—the moments of thought and intuition shared with another maker.
Q: Paperbag works to establishing a more substantive footprint for individual writers and artists by asking for more work rather than their best singular poem or piece. Do you feel that the magazine accomplished this for you? Why/not?
IC: Yes, it has. I really enjoy having access to a wider breadth of my fellow poets' work too. It feels generous to both the poets and the readers. As poets, we don't work in tiny little units—we work in larger wholes. I prefer that kind of experience as a reader, too. It's like getting a whole meal instead of a little hors d'oeuvre.
Q: As someone with her hands in various aspects of publishing, what are your thoughts on the proliferation of online journals? Do you feel that digital offers something that print can't provide, and/or vice versa?
IC: I think online publishing is amazing because it's infinitely plastic and doesn't take up any space. It offers a completely different experiential quality than books and physical journals. The difference is hard to define, for me. Many of us are figuring out how to use the online medium in a way that honors our work.
I have always felt a great kinship with books. The ones I love the most feel very human to me, like friends or relatives or god-children in idea/word form. But in my old age, an obsession with recycling and material efficiency has started to take over. The sight of stacked-up old New Yorkers fills me with anxiety. There is a genuine conflict between loving print media and facing its avalanches of paper, knowing they come from trees. Online publishing is a beautiful sort of resolution to this conflict. I look forward to seeing what things are like in 20 or 30 years.
Paperbag, I might add, features a lot of the visual appeal that endears me to books.
Q: Any insight on your current projects?
IC: I have been writing and performing poetic monologues where I sing and play my ukulele. They are funny but also profound, if I don't say so myself. Right now I'm working on one called "San Franciscan Night Theme" that brings together 1960s pop songs, California history, Full House and my own experiences into a kind of portrait of a place. I'm going to perform it at my friend's gallery space (Carville Annex) in San Francisco in a couple weeks.
Q: What are some of your most recent influences, direct or otherwise?
IC: The Western poems I was writing got me listening to more traditional country western music, which surprised me with its poetic potential as a form. The risks and pleasures involved in singing, and speaking from memory, are more and more exciting to me recently. I have been checking out the work of entertainers who practiced what I think of as a kind of troubadour tradition in the 20th century: Danny Kaye, Arlo Guthrie, and Spalding Gray, for example. Folk artists who created their own interdisciplinary-yet-seamless theatre of self and language…Jonathan Richman's "Monologue about Bermuda" is wonderful in this way, as are Sandra Bernhard's meandering personal stories interspersed with strange, heartfelt renditions of pop songs in Without You I'm Nothing. Andy Griffith, who died this year, has been a great inspiration. His monologue "What is Was, Was Football" from 1953 is very funny and also entirely a poem. There isn't really that niche in popular culture, anymore, I don't think—we leave it to stand-up comedians or professional actors. As a poet, I'm very excited to work with improvisation and performance in the way these folks did and do.
Q: What is your relationship to your readers? Do you believe in conveying a particular message, or do you regard reader response as relatively open?
IC: Having readers, and being a reader, is essential to being a poet, for me. Writing and reading are very spiritually and intellectually fulfilling activities. Someone reading my writing completes the fulfillment. All I want is for my poems to be read or heard with full attention—so I try to write poems that invite full attention. And to read poems with my own full attention. Whatever I get out of reading belongs to me—likewise with the people who read my work.
Check out some poems by Iris in the latest issue of Paperbag.