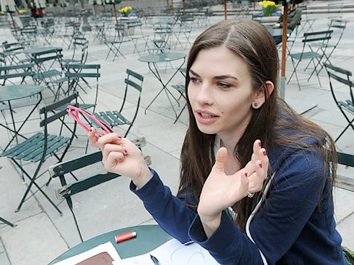 M.A. Vizsolyi: Can you talk about the impetus for the poems in "Mother May I"?
MRB Chelko: Sure. "Mother May I" is actually a series within a longer series which I wrote from December 2010-November 2011. I like to make arbitrary rules and constraints for myself as a generative tool. So, in December 2010 I told myself that, in that month, I was going to write a series of prose poems with the refrains rest and silence. I wrote a whole bunch of them and called them, "December Songs." Basically, I had so much fun writing "December Songs," that I decided to write one new series, each with its own set of rules, every month for a year. I wrote one in January, February, March, April all with strict forms or obstructions. But in May it got warm, the earth itself loosened up, and I felt like it was time for me to loosen up a little myself. So, I wrote "Mother May I" – a big energetic free verse list of desires: May I have sentimentality! moaning! insanity! midnight!
MV: You authored two chapbooks, "The World: after Czeslaw Milosz" & "What to Tell the Sleeping Babies."  Do you see these poems collected similarly, as a whole, or part of larger thing?
MRB: What to Tell the Sleeping Babies and The World: after Czeslaw Milosz are quite different. What to Tell the Sleeping Babies was my first chapbook, and my first attempt at collecting unrelated individual poems into a little manuscript. The poems in it are simply works I felt at the time, intuitively, would provide a satisfying  experience for the reader.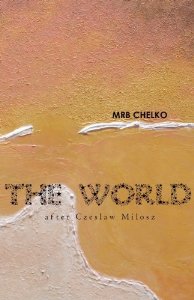 I had help from the editor of sunnyoutside press, David McNamara, in selecting and arranging the poems in the final version of that book, which he then beautifully letter pressed and hand-bound.
The World: after Czeslaw Milosz was my first, and I think only real writing, "project" so far. In December 2009, I was having a terrible time trying to quit smoking, mostly because my writing process was really more of a smoking process at that time. Not smoking meant not writing. Not writing meant I was miserable. I had to do something. That month, I happened to be devouring Milosz. To keep my hands busy, I copied down the poems from his 20 poem series, "The World." And then, I began writing responses to the poems. It was an exercise completely outside of my normal smoking-as-process process, and therefore kind of freed me from the problem of that moment. In the end, I had my own version of The World. It took me two more years to quit smoking.
MV: These poems seem to be a part of what's being coined a 'project,' as do the poems in "The World."  How does the 'project' work for your poetry?  Do you find it helpful to write with the larger collection in mind?
MRB: For the last three or four years, nearly every poem I have written has been, in one way or another, part of a series. I don't really like the word "project." But I think, at some point I just stopped conceiving of my poems as autonomous little objects, and started exploring them as parts of a larger whole—sometimes that whole is comprised of 100 poems, sometimes more like 5, but always more than one.
MV: There has been some recent debate about the value of poetry 'projects.'  One opinion is that the individual poem suffers when it is necessary for it to be read as part of larger series.  It would seem, however, that poetry has always been 'project' oriented.  I'm thinking of "The Divine Comedy," "The Canterbury Tales," and, more recently, "The Dream Songs," among other books.  What is your opinion on this matter?
MRB: In my opinion, every individual poem within a series should stand on its own legs, see with its own eyes, break with its own heart. As long as that is the case, I see no reason why those poems can't stand and see and break as a group. But maybe there are two kinds of writers: those who could live in a world with only one Dream Song, and those who couldn't.
MV: Have you participated in any cross-medium artistic/writerly collaboration? If so, what were the results? How was the experience? If not, is there anything in particular holding you back?
MRB: I have not participated in any formal collaborations. Though, a musician friend and I did record a few experiments together a few years back. I think we both ended up feeling like the music and the poetry caused each other to suffer. They are nasty to each other, you know, spoken language and instruments. My friend and I had a fantastic time watching them fight. But eventually we were like, "Okay guys, that's enough," and pulled them out of the ring.
MV: What are your thoughts on digital, internet-based journals and publications? Is the internet the harbinger of doom, the doorway to the future, just another tool for communication, or something else entirely?
MRB: I love the internet—the rightnowness of it. And, lately, it has been fantastic for me to listen to the audio recordings so many journals have started including alongside their printed work. My daughter is very young, so I don't get out to many readings, and it has been great for me to be able to hear new poetry from the comfort of my own pajamas. If they stop printing books on paper with ink, I will take to the streets. Until then, digital media's fine by me.
MV: Paperbag works to establishing a more substantive footprint for individual writers and artists by asking for more work rather than their best singular poem or piece. Do you feel that the magazine accomplished this for you? Why/not?
MRB: A venue like Paperbag is perfect for me. It's always great to have a poem published anywhere. But I do prefer to have two or three or four published together a group. That way the reader gets a sense of the series' scope and gets a more thorough introduction to my work. Likewise, as a reader, I always prefer to encounter a handful of poems by a single poet.
MV: What are some of your most recent influences, direct or otherwise?
MRB: Right now I am most influenced by Radiolab, Gugot's Series Elementary Geography (this crazy old textbook from 1868 that begins "People live, or have their homes, upon the land. Upon the water people only travel from place to place. Every where we go we are upon the land, or upon the water. In some parts of the world the land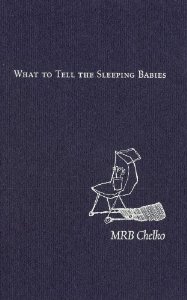 extends so far that we may travel many weeks upon it and see only  streams and small bodies of water…"), and all of the brightly colored cardboard books with the corners chewed off scattered on the floor of my apartment.
MV: What is your relationship to your readers? Do you believe in conveying a particular message, or do you regard reader response as relatively open?
MRB: A few really generous English teachers have used my work in their classrooms, and I've become friends with a handful of other poets who have reached out to me after coming across my work in journals… but if there is someone out there, wearing away the upholstery on the edge of her seat as she eagerly awaits my next poem, I certainly haven't met her… and maybe, if she exists, I shouldn't. Truthfully, I don't worry a whole lot about audience. Of course, I want to be successful. I want people to read my stuff. I'm not an idiot. But it just isn't helpful, for me, to think about that directly as I write. However, I do consider all of my poems to be extremely public acts. At some point, if they work, they belong to everyone else, not to me.
MV: What are you working on now?
MRB: A novel for young readers.